Re-designing Tip 1
BACKSPLASH
Backsplash can be the game changer for the aesthetic of your kitchen. Backsplash tiles today come in various shapes, colours and finishes and are often not as expensive as the counter top would be. So, decide on your theme for the kitchen and choose the tiles accordingly.
You can play around with basic priced tiles and create a pattern that will look really expensive. This is the best area to unleash your creativity. Go wild.
People also use a lot of peal and stick tiles as backsplash and also wallpaper. I have read reviews where they have lasted for 5 years and more. But personally, I find a comfort and security in using ceramic tiles as a backsplash (especially behind the sink and the gas burner)
Or call us today and let us help you out in the material selection as per your budget for the kitchen of your dreams.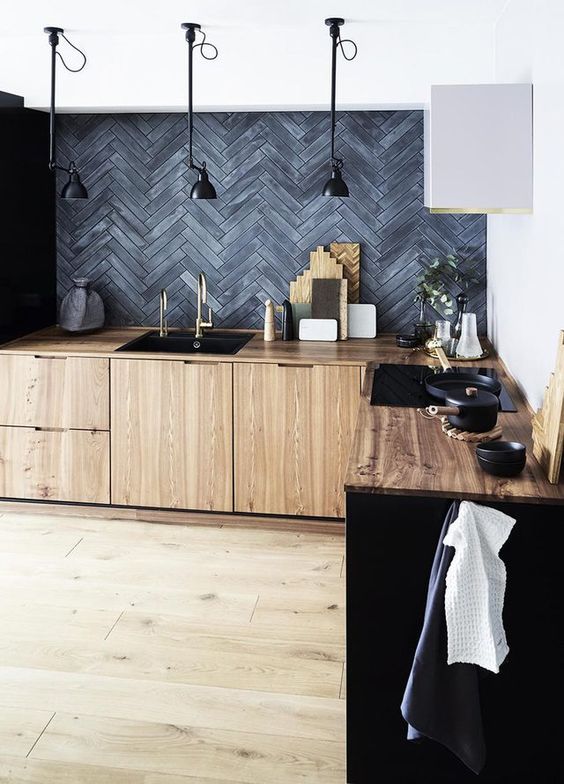 Against lighter colour cabinets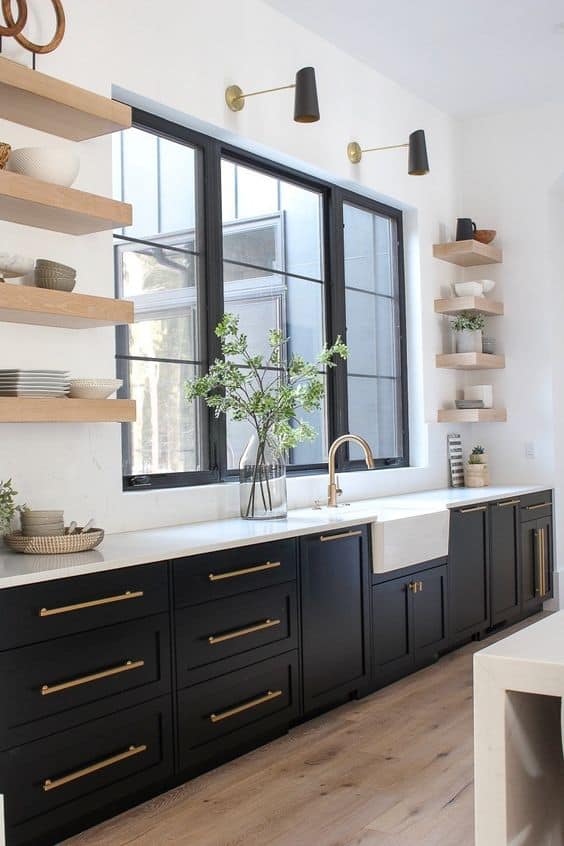 Black cabinets in a white well lit room add glamour to the space!
Re-designing Tip 2
CABINET FINISH & COLOUR
Choosing a cabinet colour can be made once you have decided the counter top you are going for. Standard wood finish, white, grey, black are most commonly and widely used. But people today are enjoying experimenting with some pastel and bold colours as well such as mint green, blush pink or a navy blue , bottle green, etc. the world is your oyster while choosing the colour and finish for your cabinet, just follow the basic rules of going lighter on the cabinets if the space is small and low on natural light, you can be brave and use some dark shades for a space that is large and well-lit.
Re-designing Tip 3
HARDWARE & PLUMBING FITTINGS
It seems like the most non-necessary item to think about while you are busy buying appliances and selecting the finishes for your counter and cabinets. But trust me when I say this, it is as important and functional while designing a kitchen. Making sure that the cabinets handles are smooth edged especially if you have kids around. Making sure the surface of the handle offers a good grip, especially while you have senior citizens around
And most importantly they add an element of sophistication to a space, if they are well thought of before making a choice. There are hardware's available in pull, handles, knobs or even concealed handles, so it is important to just role play cooking and imagine if your hands are going to be messy and how would you open a drawer having a knob, or wouldn't it be way easier if it had a handle. Try this out and let me know what are your findings.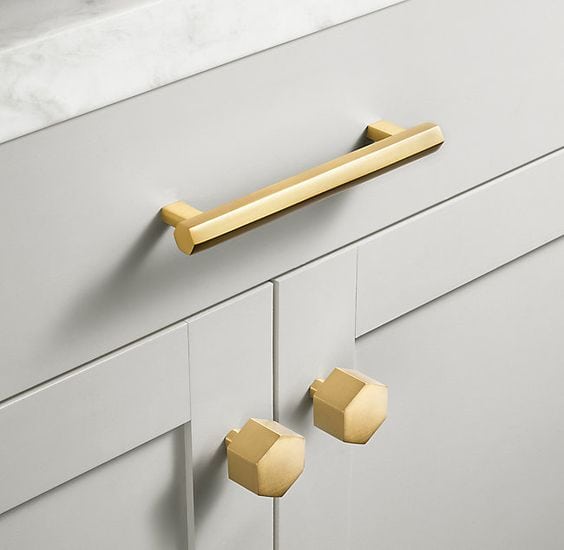 Minimalistic Hardware design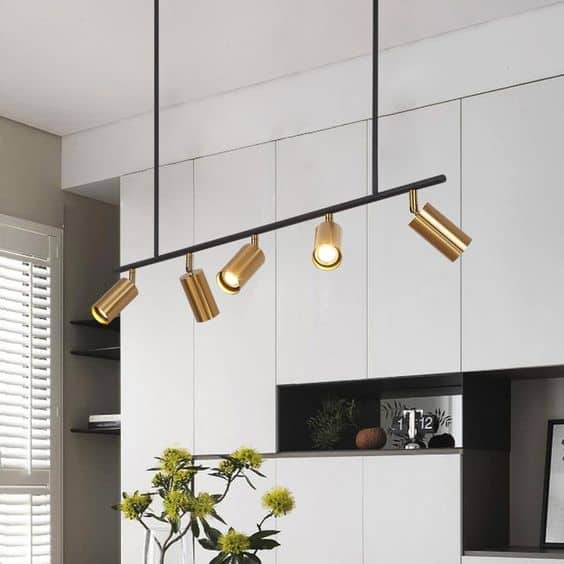 Clean light fitting design
Re-designing Tip 4
LIGHT FITTINGS
Lighting is very important in kitchen while cook and dining. Play around with some fancy hanging light fittings in your dining and breakfast space. And go for something stronger in the preparation and cooking area. Lights instantly brighten up a space and make it look attractive. There are many websites only that sell some amazing light fittings at a decent price point. So go on a splurge a little!
Re-designing Tip 5
STORAGE & OPEN SHELVES
Storage is so important in kitchens like any other room in our house. Invest in trolley or dividers so that you can use most of your storage space and organise it well. Open shelves are also a very contemporary way to display and store your spices and ceramic in the kitchen. Open shelving is a good option for kitchens used by 1-2 people. It's easy to accesses and isn't too much to create a mess. Whereas, for large families where you don't always have the time to organise your groceries closed cabinets and storage units are a way better option.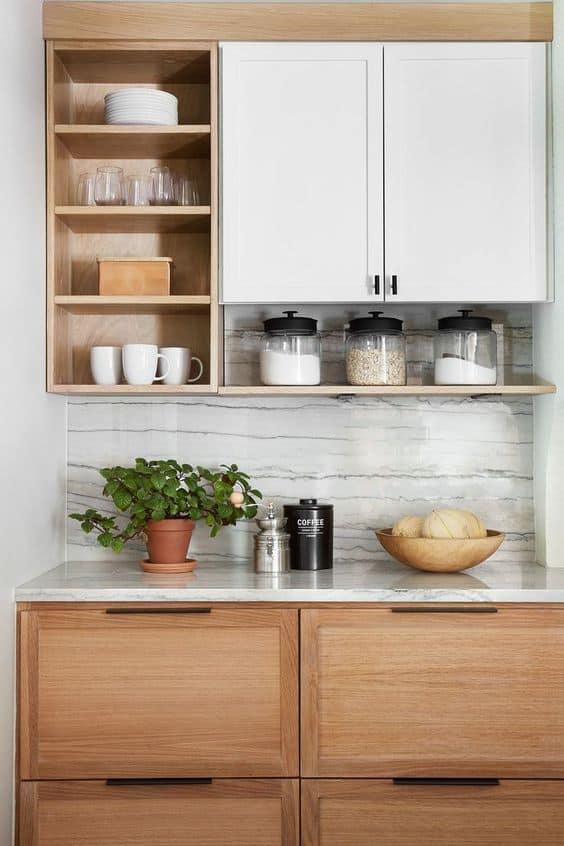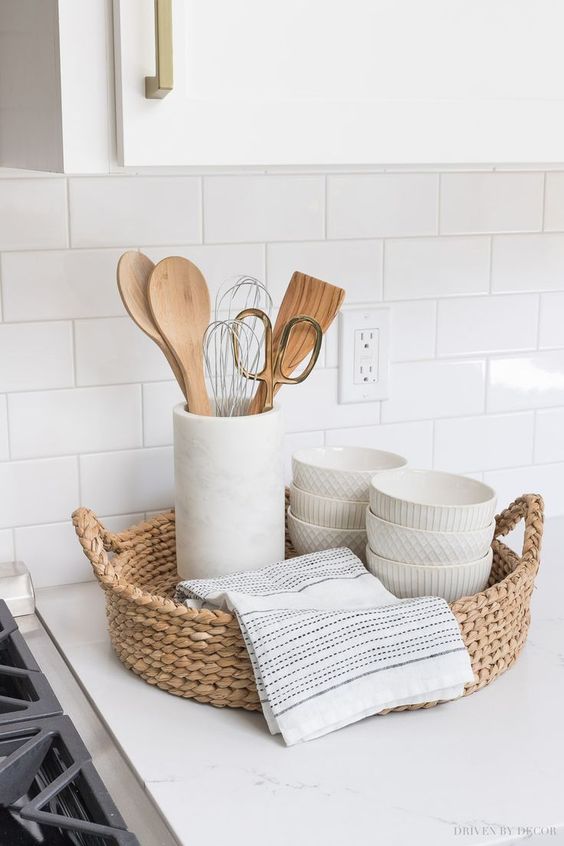 Re-designing Tip 6
PERSONALISATION & FINISHING TOUCHES
Finishing touches differ from person to person, and it can include adding some plants, décor elements, table décor, baskets, candles, bowls and so much more. Make your own space, make it a warm cosy space for the whole family to unwind in. Hence, don't neglect finishing touches, they tie the whole space together.