Narrow spaces are always a challenge to style and organise
BUT CHALLENGES IS WHAT MAKES THE DESIGN UNIQUE
Decorating narrow rooms can be a really difficult task, but knowing a few simple tricks can prevent it being overwhelming. Here are 6 tips to help you maximise your living space if you're dealing with tricky spaces!
Designer Tip 1
GET ADVICE/SPEND TIME ON GETTING THE LAYOUT RIGHT
Ensure the room has a good flow without any tripping hazards. This doesn't mean you have to push all your furniture against a wall but be careful to ensure no furniture is in the middle of the room, making it hard to get from one side of the room to the other.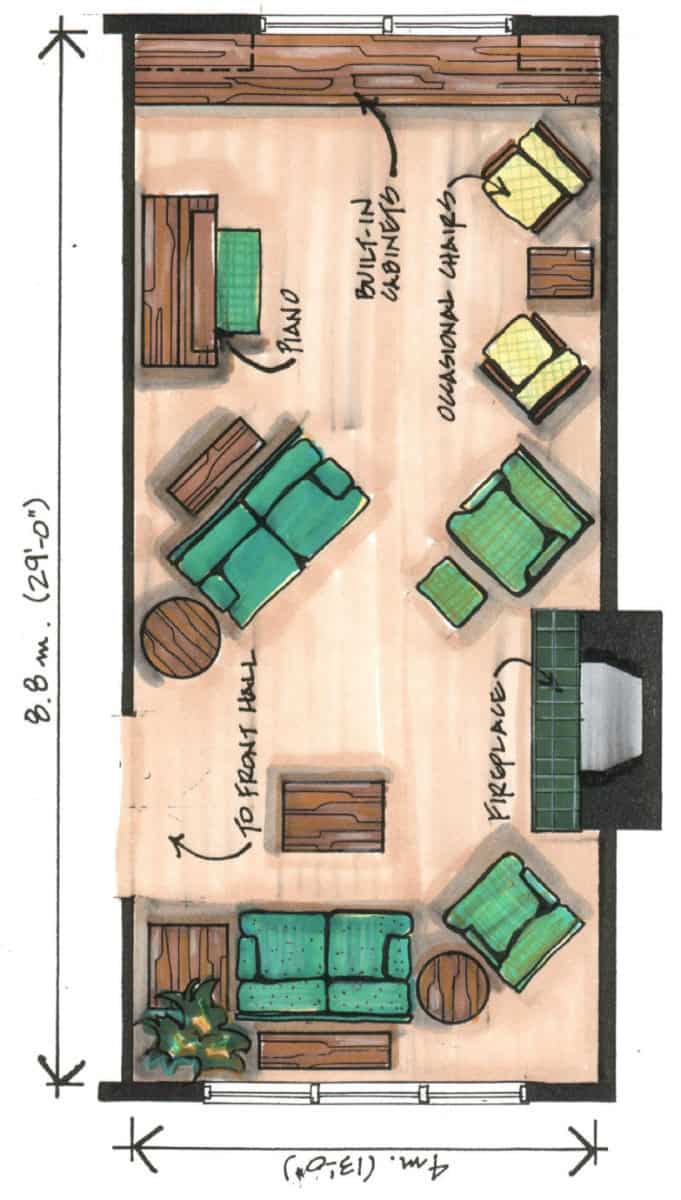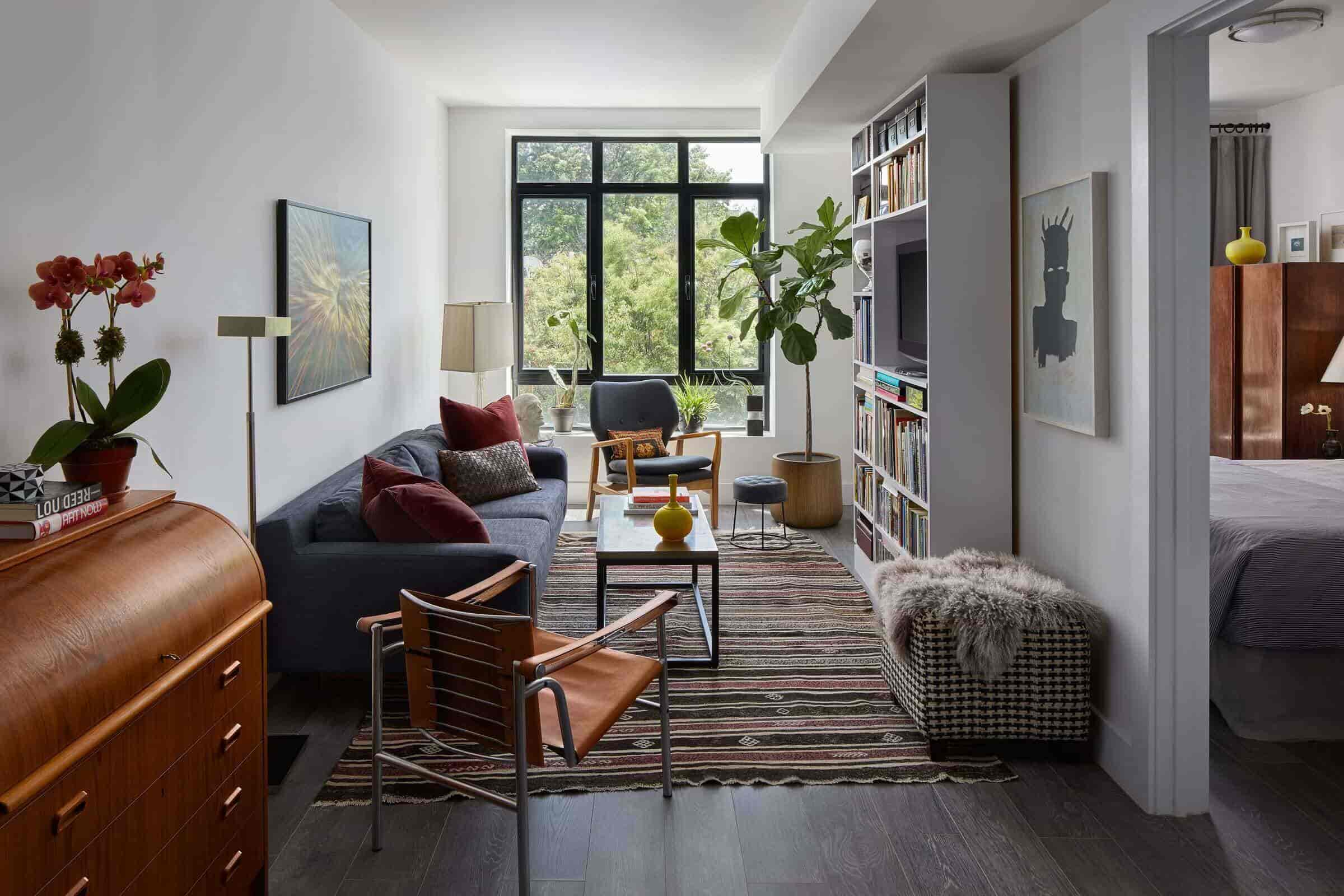 Designer Tip 2
RE-ARRANGE AND RE-ORGANISE
When rearranging your furniture there is a couple of tips that can help you make the most of your space. Positioning your sofa a couple of inches from the wall for example is more visually appealing than having it directly touch the skirting. In order to avoid creating a room which feels like a walk-way position armchairs facing inwards towards the sofa to create a destination where you can relax.
Designer Tip 3
ZONE YOUR SPACE ACCORDING TO FUNCTION
As we touched on above, it is important to create zones within your space in order to prevent it feeling like a corridor. Divide your space into different areas such as an entertaining space, a reading nook and a bar area.  Using rugs and artwork on the walls is a really important tool to use when create zones. Use these to create clear lines between the different areas and guide the user through the space.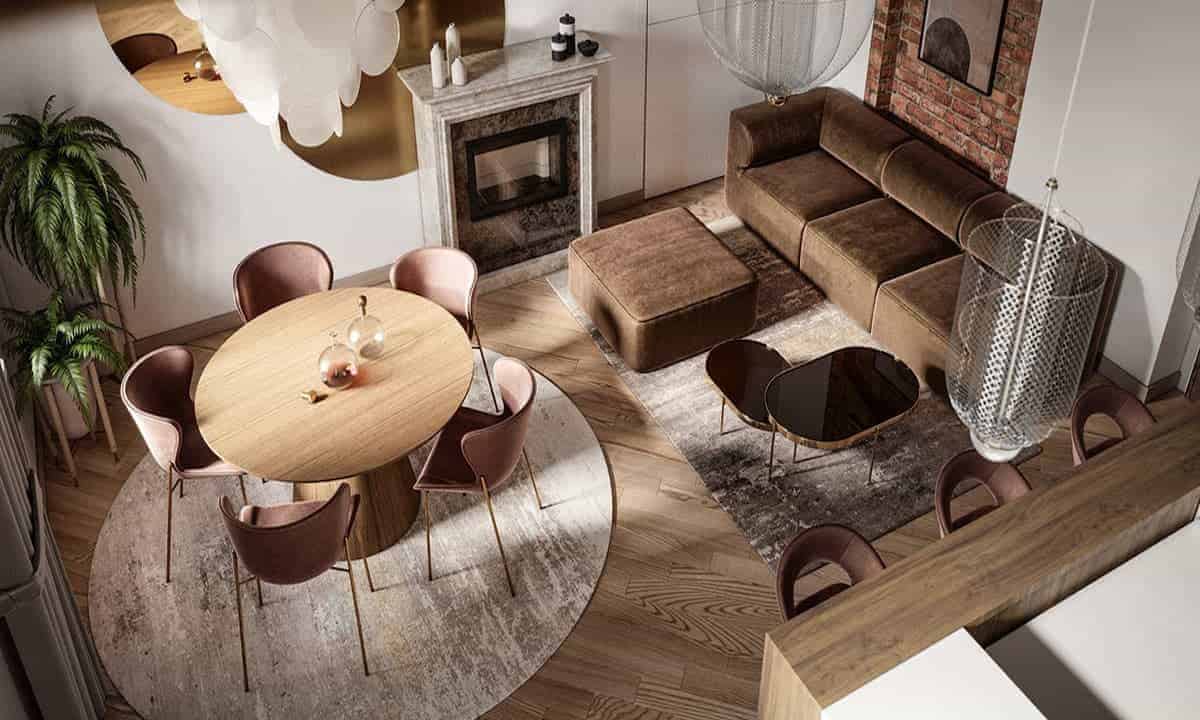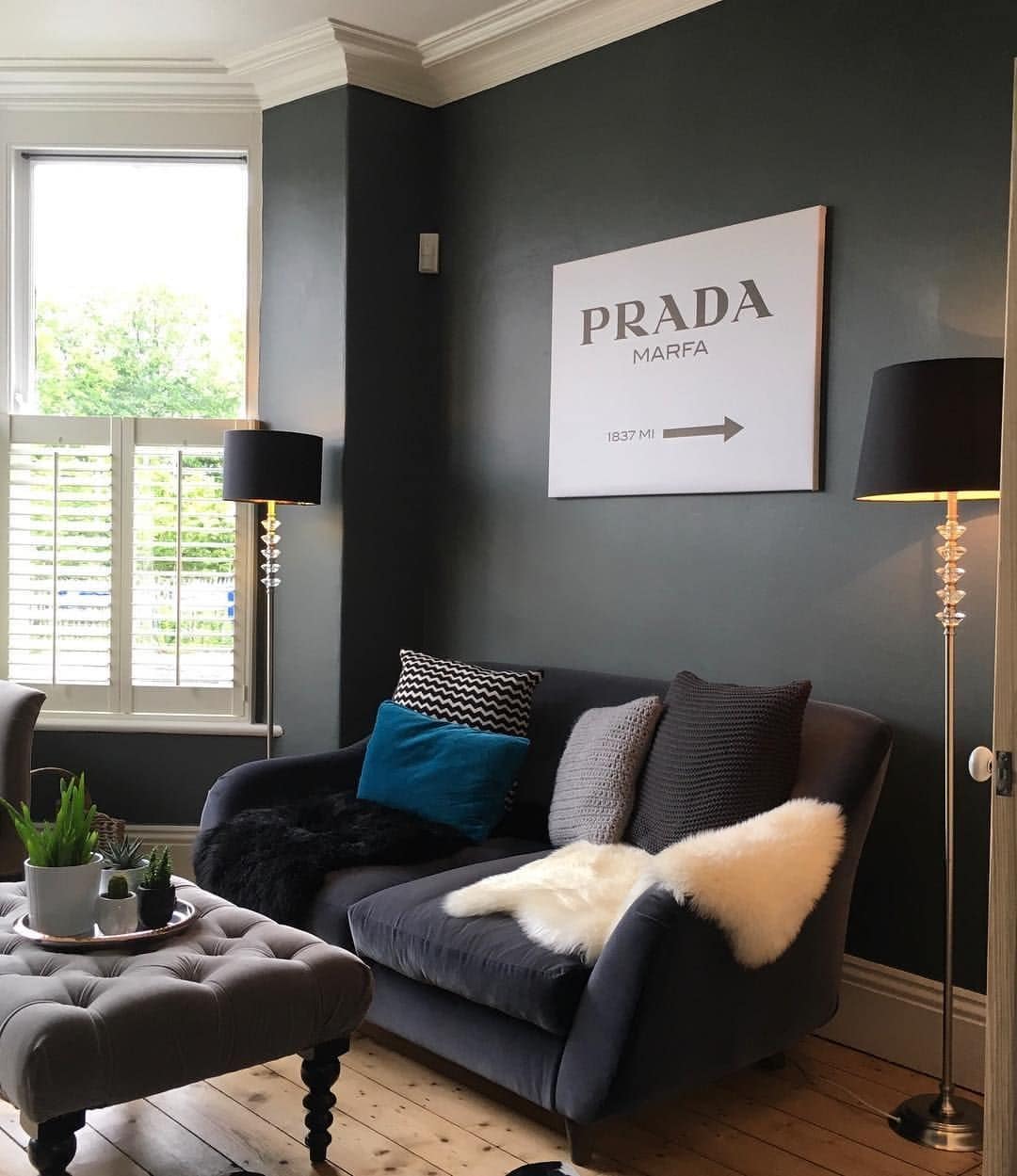 Dark colours create depth
Light colours reflect more light
Designer Tip 4
CHOOSE THE RIGHT PAINT
It's common knowledge that light, airy paint colours are important in order to make a room appear larger. A useful trick for narrow rooms however is painting the far walls in a darker colour. Whilst this can seem counter intuitive this can actually make them feel closer to you and therefore make the room feel less narrow. A dark wall can create a great feature in a space, particularly if the right colour combination is used. You can also match the colour of your radiators to the rest of them. Whilst an unconventional technique this can stop them from breaking up the room and drawing your attention.
Designer Tip 5
IMPORTANCE AND EFFECT OF NATURAL LIGHT
In a smaller space you will want to maximise the amount of natural light in the room. Removing window coverings such as blinds can allow more light to come through. Use floor to ceiling curtains to create the illusion of the space being taller and ensure the curtains are pulled to the very edge of the window, again to maximise the amount of light coming in. Glass furniture can be another useful tool to keep a space bright, instead of wood consider choosing a glass coffee and side table. Mirrors are a great way to bounce natural light around the space – so make sure to include them!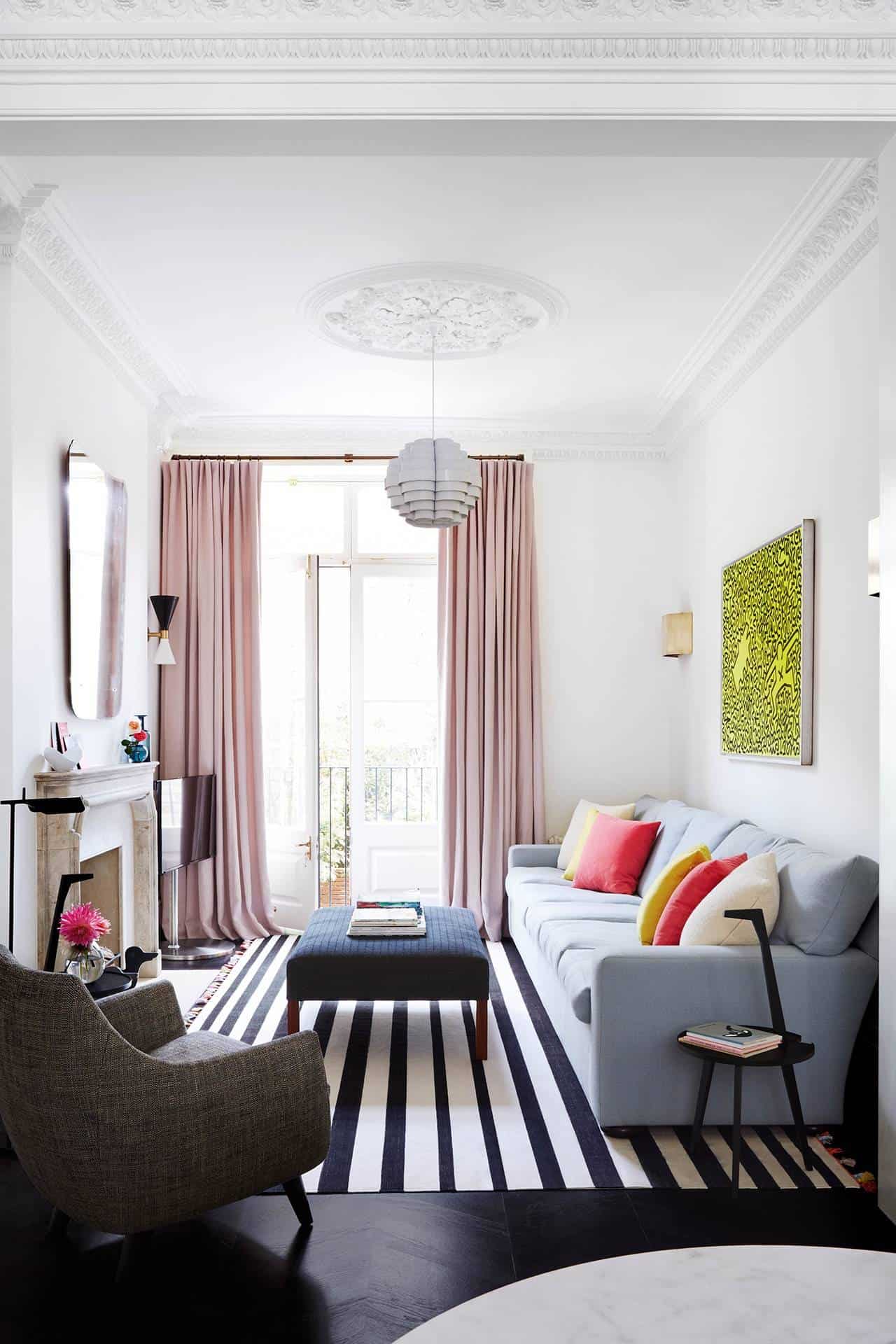 Let that sun enter your space!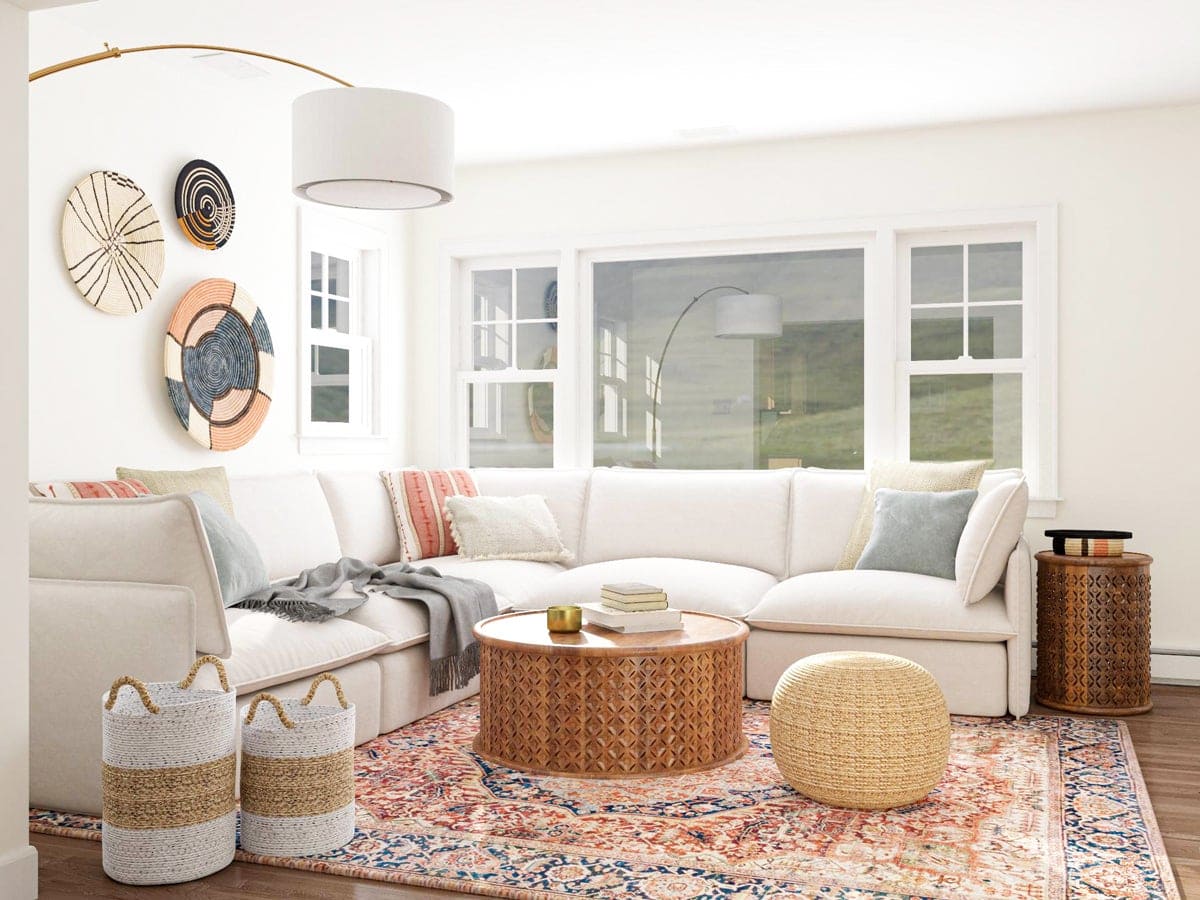 Soft fabrics and curved furnitures
Designer Tip 6
FLOW OF SPACE THROUGH CURVES
Using curves can make a huge difference when designing a narrow living space. opt for round table lamps, a sofa with curved edges or perhaps a circular pouffe. A round mirror could also be a valuable design element; not only are these on trend right now they can soften the lines within a room and reflect light around the space making it feel bigger and brighter.