We are noticing many theme based cafes and restaurants opening around us!
LETS EXPLORE WHAT IS THE PREFECT RECIPE TO GET IT RIGHT!
Asian theme cafes are gaining popularity in the UK, because of wide variety of colour and food they bring. Leicester alone has seen in the past two/three months a new four to five themed cafes on every street. So, what is the perfect recipe to build the cafe of your dreams?
Essential Tip 1
GO BACK TO THE ROOTS
Cultural Significance consist of scientific, social, historic, aesthetic, or spiritual value throughout the generations of the culture. These significances can be embodied through a setting, use, meanings, materials, and related objects.
By incorporating the cultural significances within your interiors, it can provide important social and economic benefits. By sharing culture and tradition, we create a connection that is more personal from business to customer.
This feeling of nostalgia or feeling welcome to a tradition can positively affect the way customers perceive the business, showing great ethics and morals respecting and sharing a culture. People of minority who can find familiarity, in this case culturally, can be more comfortable taking the time to visit as it can be daunting to try something new, especially those who are new to the country and its cultures.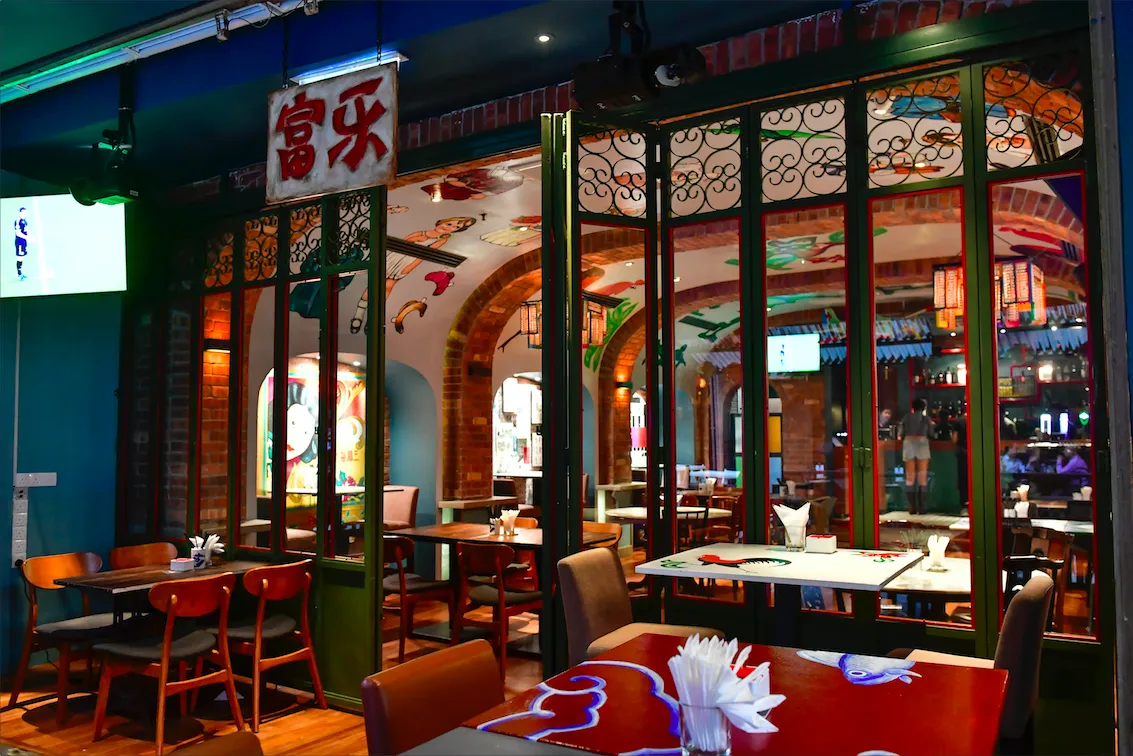 Sign and symbols of significance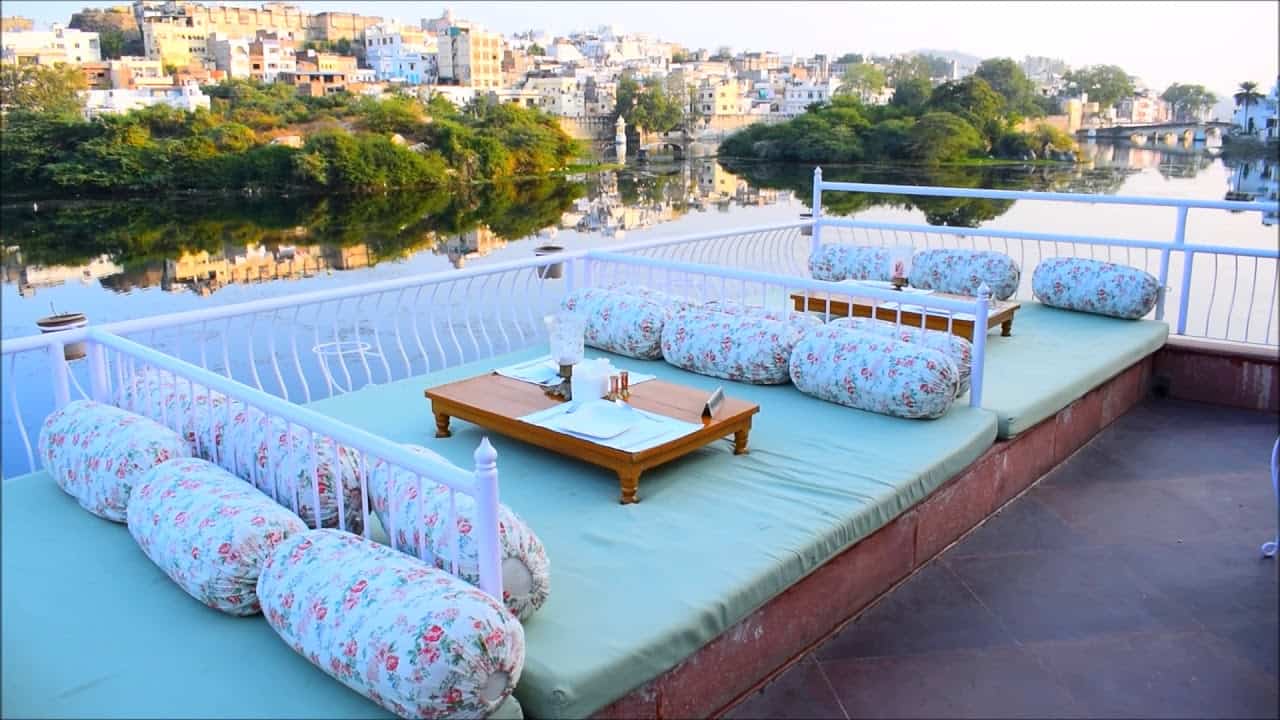 Low height seating for the authentic experience
Regular seating for customers
Essential Tip 2
DON'T BE SHY, MY HONEY!
Yes, that's right. Don't shy away from diving deeper into the history and origins of the space you want to create. This is what will give your restaurant the authentic and real experience. Design and food have many layers and allowing your audience to feel something new at every stage is what creates a memorable experience.
For instance, you can having a unique seating setup that resonates with your food served – traditionally in asians homes, people sit on the floor to eat, which is proven to be a best position to eat as you only eat to your stomachs' capacity and don't over eat. Such similar experiences can be created in restaurants with an option of having low height comfortable seating for the customers.
Essential Tip 3
USE LOCAL SUSTAINABLE MATERIAL
Every naturally occurring material has connection with the geographical region, hence you find some material only in some countries. For example, you can see a lot of bamboo in southeast Asian nations and earthenware. The most used sustainable materials are wood, stone, ivory, clay, cane, and various metals. Relief wood carvings frequently adorn the doors, walls, and windows of many Asian buildings. (furniture/accessories/umbrella/lantern lights/like what is normally used/glass/ cup of tea)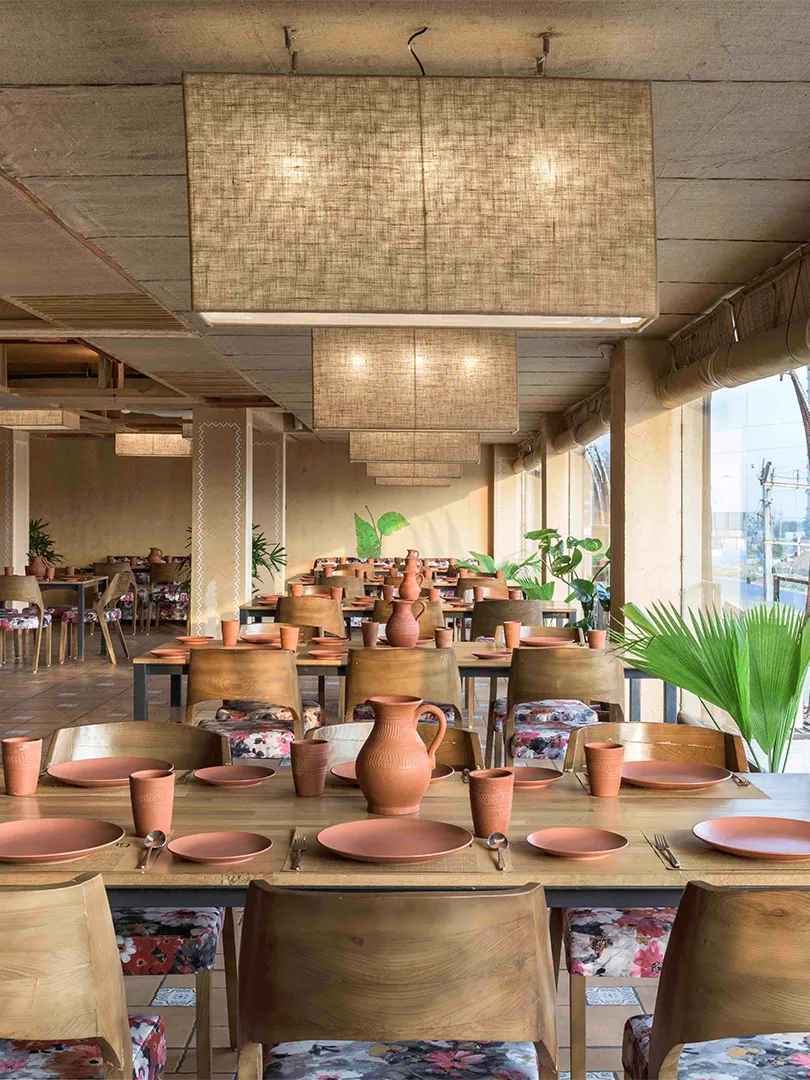 Locally available and made earthenware
Locally found linen fabrics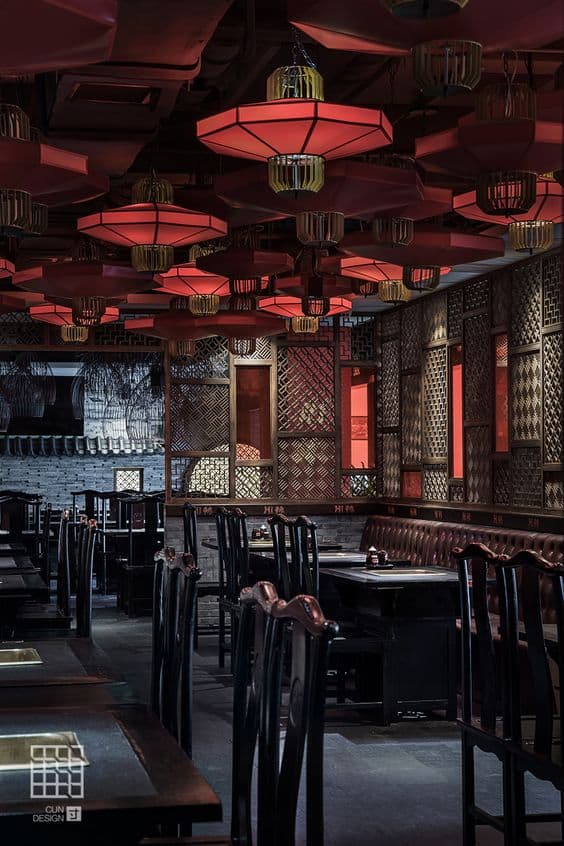 Keeping it elegant and classy
Essential Tip 4
DON'T OVER DO IT
Even though Asian countries have a lot of colour and culture, over doing it will make your space look cluttered. It's important to get the right the proportion of design elements in your space to highlight the theme of your cafe and still be inviting to the locals who are not familiar with the culture.
Essential Tip 5
MUSIC TO SET THE MOOD & VIBE
Music releases Dopamine in the brain which is the same chemical that is released when you eat your favourite food, which makes you want more. When you listen to music you love, the brain releases dopamine, which then dopamine increased happiness, even with sad music. Within music, people can express themselves, personalities, and opinions. Even relating to the song lyrics. According to research 90% of workers perform better when listening to music, and 88% of employees produce more accurate work when listening to music.
Health Benefits from Music:
• Increases motivation
• Reduce anxiety
• Reduce stress
• Decreases pain
Neuroscientists researched that listening to music magnifies positive emotions that can distract you from mindful or stressful situations. There is music therapy that helps patients and patients with dementia which helps them recall memories and emotions.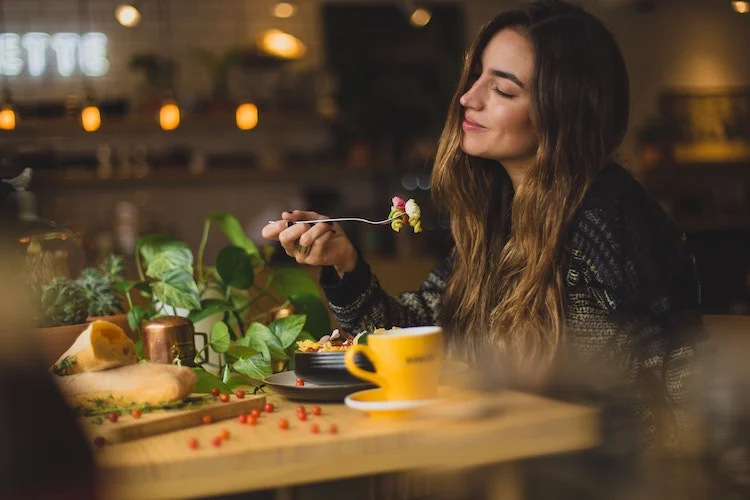 Pairing your authentic food with traditional music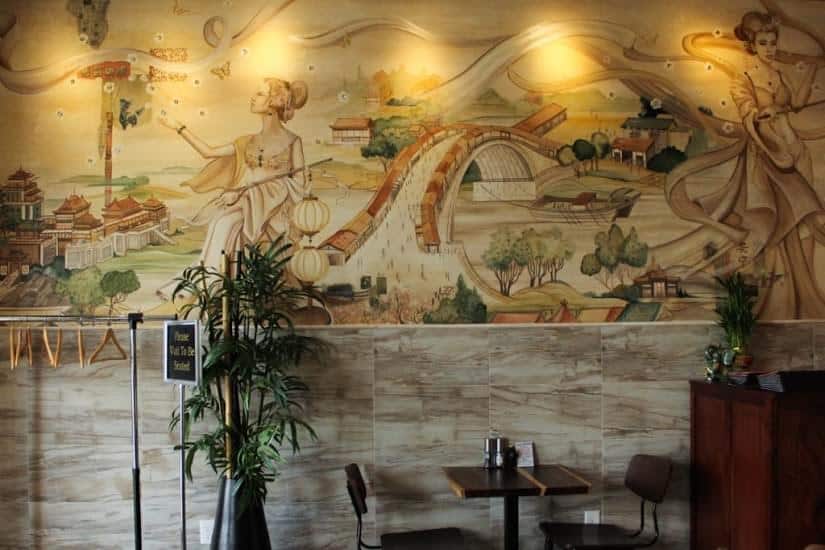 Wall paintings that show history for tell a story!
Essential Tip 6
EDUCATE YOUR AUDIENCE
Building a theme cafe in a non-native country can be overwhelming, we must remember that we do not kill the core importance of the culture or cuisine that we are representing. Also, it's a great way to educate your customers with the little history or historical importance of your cuisine. The best way to do this is with decor, wall art, graphics etc.
Wall of fame/history for the audience (teach through graphics) Images of where the brand or the company come from (the process).