Let's start by understanding the benefits of OPEN PLAN LIVING ROOM designs
ONE STEP AT A TIME.....
Open plan living room design does offer a lot of benefits! It can create a feeling of spaciousness and openness in the room, and it can also make the area more sociable as it encourages people to come together in one space. It's a great space for entertaining and hosting larger groups.
It also allows you multiple options to rearranging furniture. Additionally, open plan living room designs can help to make cleaning and tidying easier, as the room is all one space, making it easier to sweep and vacuum the entire area.
Most importantly, it can help to improve the flow of natural light and air circulation, which can help to keep the room feeling light and airy.
Step 1
ESTABLISH "ZONES" IN OPEN PLAN LIVING ROOM
Establishing 'zones' in an open-plan living room is an effective way to create distinct areas for different activities in your living space. It's important to take into consideration the size and layout of your living room before you begin.
Experiment with layout and avoid placing furniture against the wall, instead use it your benefit to zone out spaces and create a sense of visual connect in spite of defined zoned spaces. To get started, you can use furniture to divide the space into different areas. For example, you can create a reading nook by placing a comfortable armchair in a corner, and adding a side table and lamp.
Furthermore, consider adding shelving, wall art, and other decorative pieces to give each area its own unique identity. With some creativity and thoughtful planning, you can create distinct zones that maximise the functionality of your open-plan living room.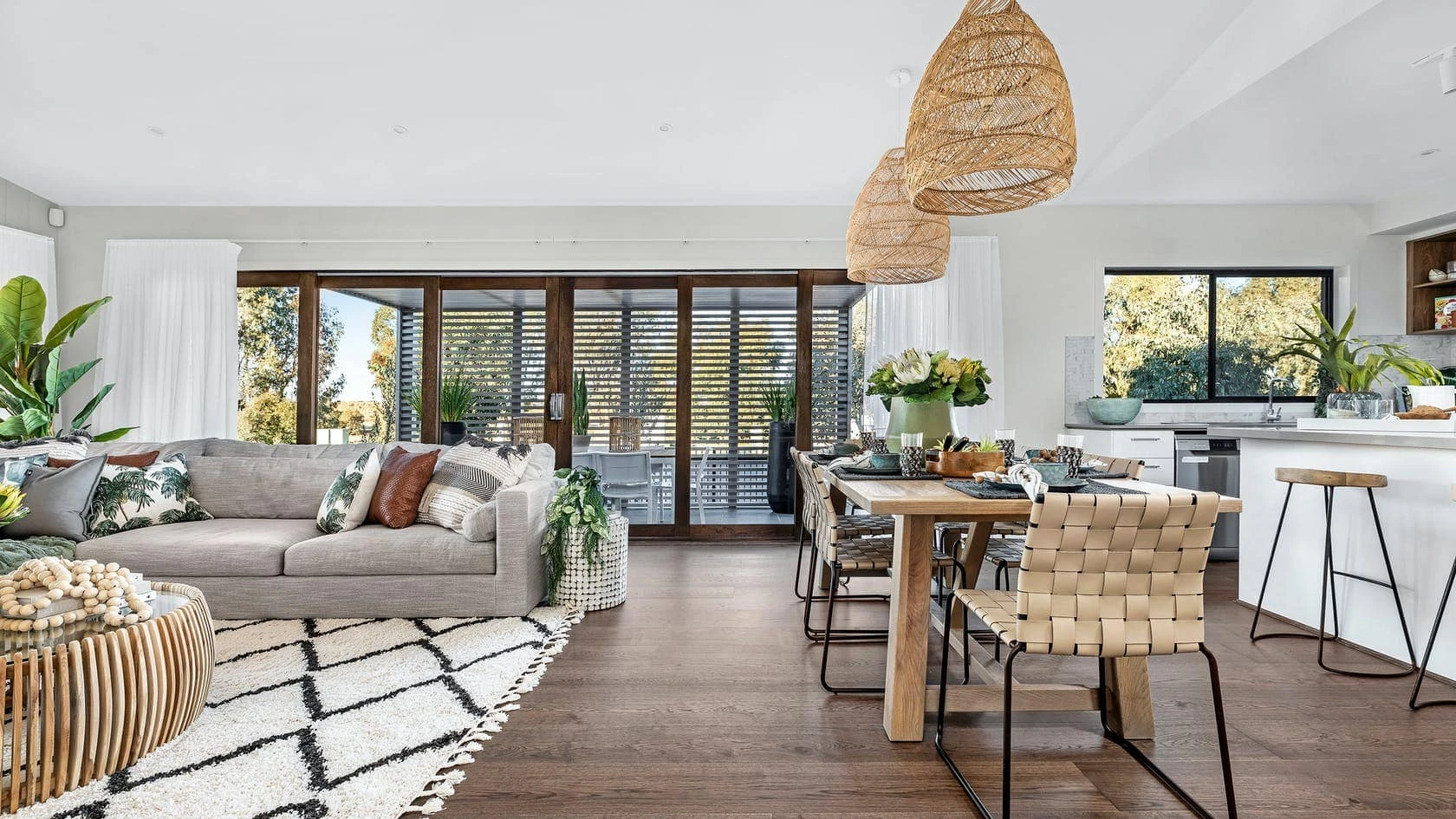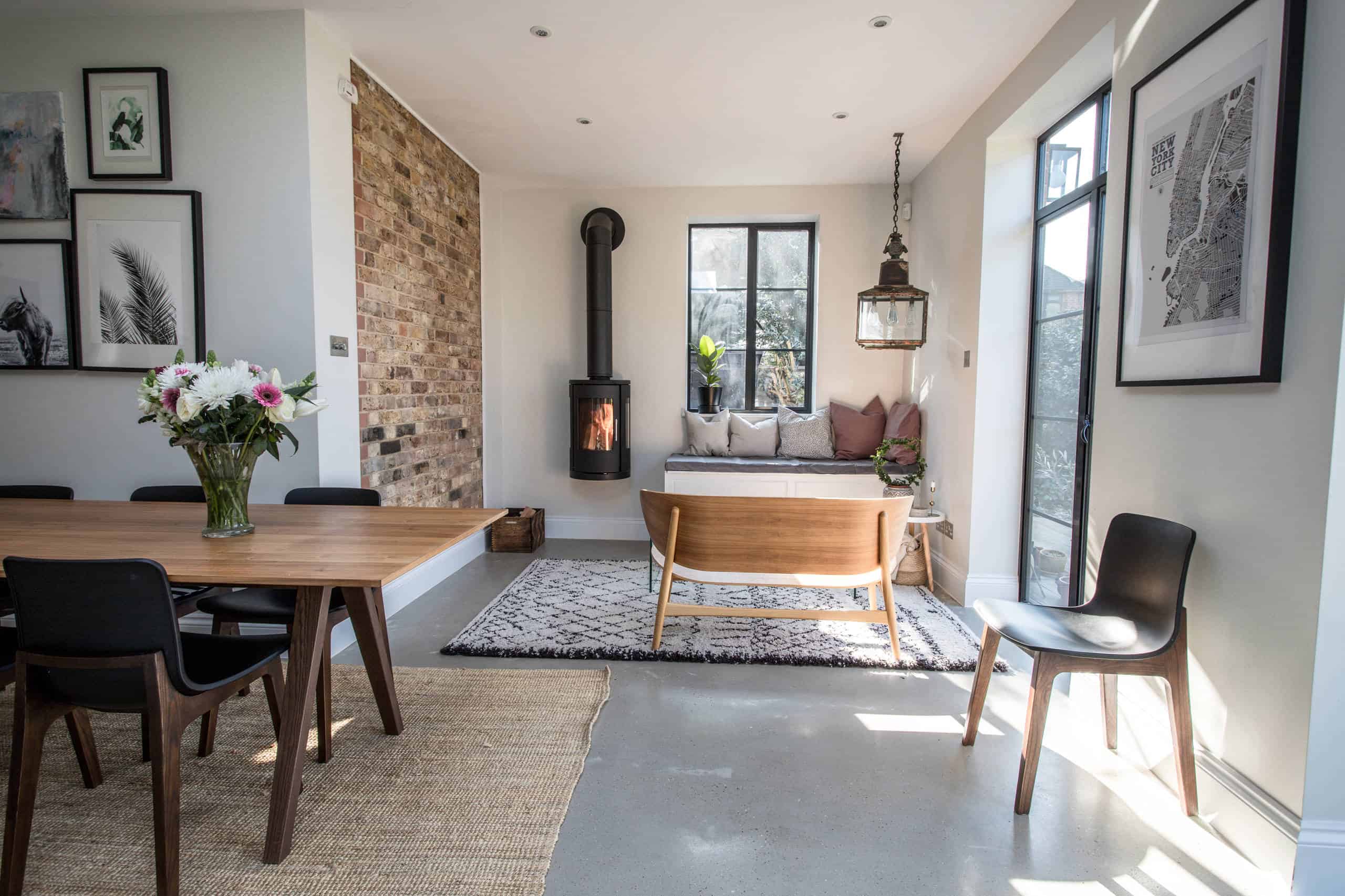 Step 2
MAKE IT INVITING & INTIMATE
One way to make an open plan living room design inviting and intimate is by filling the space with comfortable furniture and creating distinct areas. Choose items such as sofas, chairs, and ottomans that add texture and colour to the space.
Utilise area rugs or carpets to define each area and add some colour and texture to the room. Accent furniture such as side tables, decor items and accent chairs can also help create a sense of intimacy. Also lighting plays a very important role in defining spaces and the mood of every space in the living room
Add furniture like see through book shelves, planters to create a sense of partition between the living room, kitchen or dining. Strategically placed light fixtures can help to define different areas of the open plan living space and create a more intimate atmosphere.

Step 3
MAKE YOUR SPACE COHESIVE
Open plan living design can be a great way to create a sense of space and flow in your home. To make the design cohesive, start with a colour palette that is consistent throughout the space.
Choose colours that you like and that complement each other. Then, select furniture and décor that fits with that palette.
Make sure the furniture is arranged in a way that creates a sense of flow, with seating areas and pathways that are clearly defined. Incorporate plenty of plants and natural elements to bring a feeling of life and warmth to the space.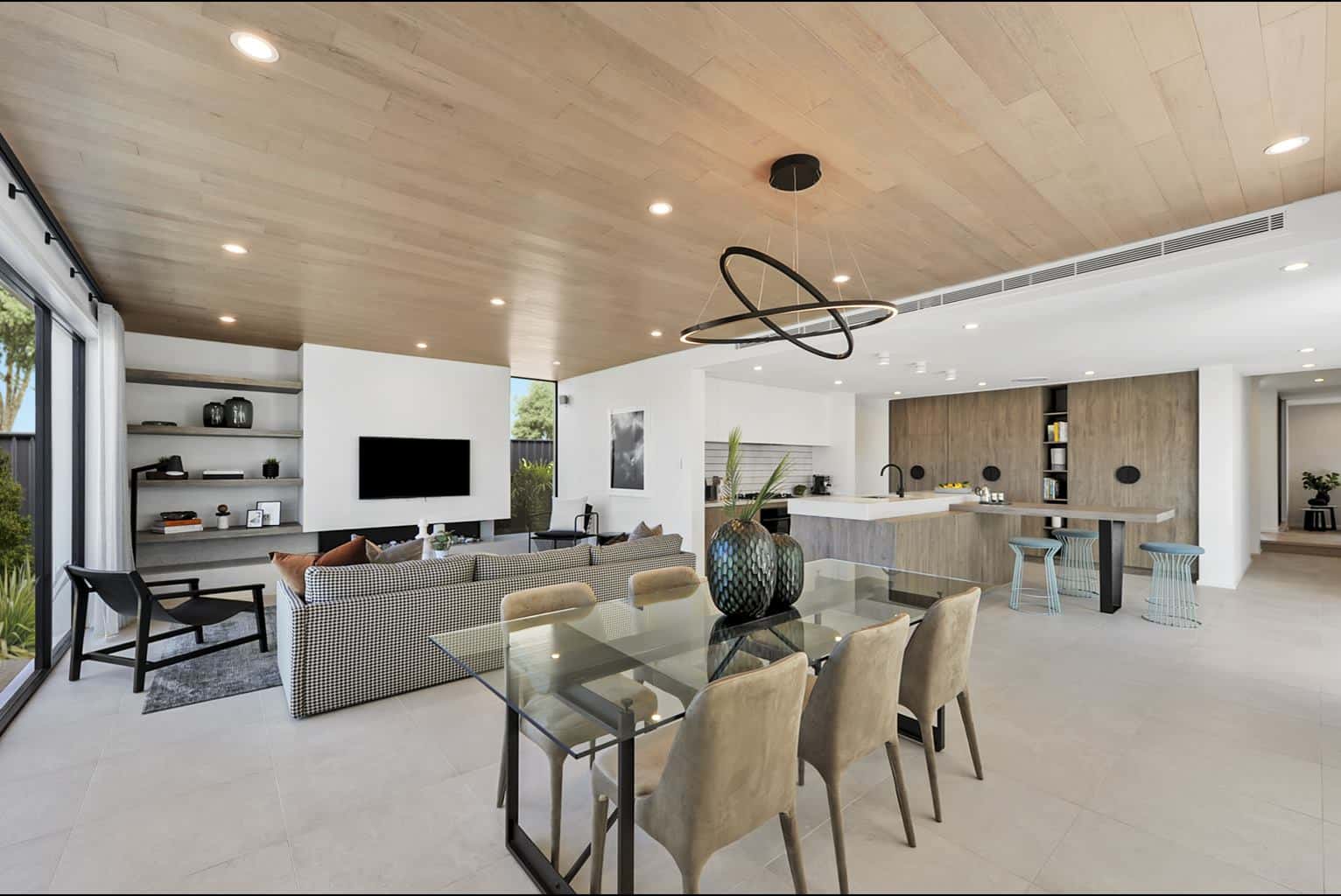 Brown tones in kitchen area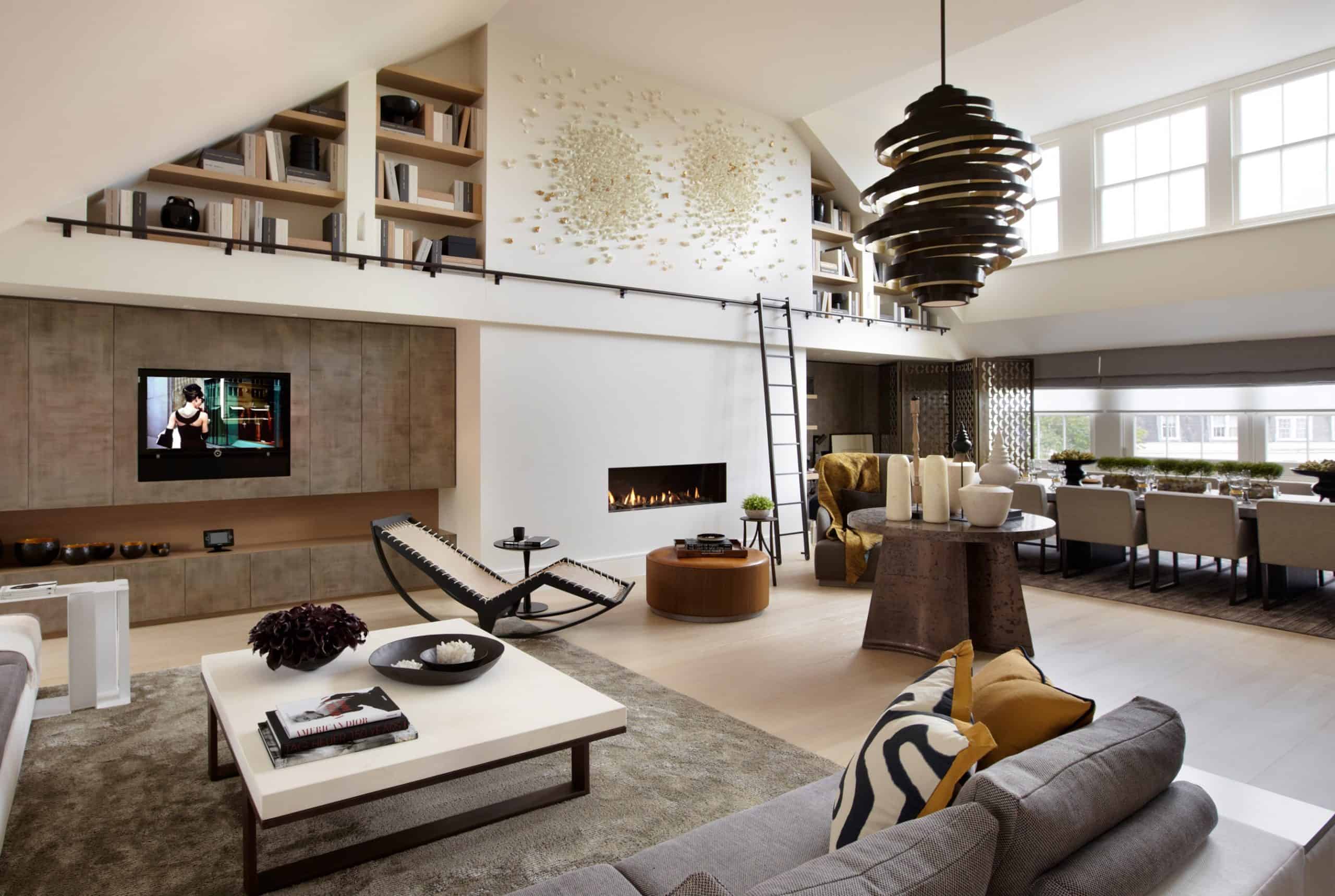 Focal point is a dramatic chadelier
Step 4
KEEP IN MIND SCALE OF SPACE & FURNITURE
Scale and proportion are very important to consider when designing open plan living spaces. They can have a huge impact on how comfortable and functional the space is. For example, having furniture that is too large for the space can make it feel cramped and uncomfortable.
On the other hand, if the furniture is too small, it can make the room feel sparse and uninviting. It's important to find the right balance between the two for a successful open plan design.
Using a similar scale of furniture through your whole space will make the space aesthetically pleasing and will offer a chance to insert a feature element like a large chandelier/artwork or even an oversized indoor plant!